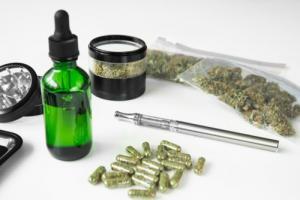 Even before 2018, when the federal government of the United States of America enacted the farm bill, CBD and CBD products were legal in Illinois. However, those products didn't have the same privileges that they are having after federal law. There were some strict rules and regulations that were governing CBD in the state territory.
The rules that were existing in this state were mainly for governing the usage and sale of medical marijuana. As per the previous law, those people who were suffering from certain specified conditions like epilepsy and seizure were allowed to use 2.5 ounces of marijuana per week. It was also stated that the cannabis must be procured from the state-licensed dispensaries. The marijuana that was used for recreational purposes was illegal in this state.
Hemp And CBD In Illinois
Illinois was a state that had some of the most relaxing rules regarding the cultivation of the hemp plant. Since this plant is an abundant source of fiber, it was used by many manufacturers for the production of cloth, rope, etc. Production of hemp oil from the seeds of this plant was also legal in the state of Illinois. Since the legalization of CBD, the state government made liberalized its local rules and made it legal to extract CBD from the hemp plant.
Who Can Use CBD
Since CBD can be derived from the hemp plant and cannabis plant, some rules are governing its purchase, sales, and usage within the state. As per the regulations governing cannabis, a person needed to have a certificate stating that he or she is suffering from any one of the specified diseases such as cancer, diabetics, etc. to buy CBD derived from the cannabis plant. The law had also stated that this certification is not necessary for people to use Hemp extracted CBD.
The Role Of Doctors
In Illinois, doctors and other medical practitioners were not allowed to prescribe CBD for their patients. But they were allowed to certify that a person is suffering from any one of the specified medical conditions. The doctors of this state were given full power to certify whether a person is eligible to use CBD. However, this recommendation and certification were only needed for using cannabis CBD.
Even though the federal law has legalized CBD, all the state governments are having their own local rules to govern its usage and sale. Therefore, it is better to understand the local rules before using CBD in the USA.