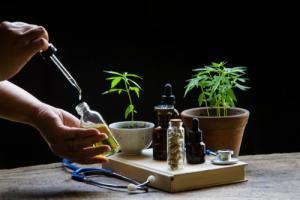 Cannabidiol (CBD) the chemical compound found in the hemp plant is the face of the all-natural medicine movement. This nonpsychoactive cannabinoid has already made a name in treating
Anxiety
Seizures
Depression
Skin conditions like eczema
Inflammation
Glaucoma
CBD products are raising in fame, as a result, in sales and naturally, in numbers. Most of the supermarkets in the US now have at least one CBD product. Not to forget the wide variety of products available in the market! CBD chocolates, CBD juice, CBD oil, CBD shampoos, CBD cosmetics, etc.
Have You Ever Tried CBD Infused Coffee?
What do you think about the awesome combination of coffee and CBD? This the best possible way to intake CBD enjoying the taste of the caffeine drink along with it.
But some doctors are not happy about this combo and they have their own reasons for that. Harvard physician and cannabis medicine specialist, Jordan Tischer, tells us how the nature of CBD will prevent it from being ingested. CBD is water repellent in nature because of which it will most probably get stuck in the sides of the cup and will not dissolve in the coffee.
Also, it was proved in a study that temperature affects CBD. This means that the dose of CBD you get will not be the same when the coffee is cold or warm. Taking into consideration both the factors, those who HAVE to consume a particular dose of CBD should find other ways to take it.
CBD Infused Peppermint Chocolate Espresso
Sean Markley likes it when his coffee has CBD and is very positive about the outcomes of having CBD coffee. He is the publisher of a cannabis-based website and here is one of his best CBD coffee recipes.
Ingredients
Espresso
One tablespoon unsweetened drinking chocolate
Half tablespoon sweetener
Quarter to half tablespoon cup cream
The desired amount of peppermint flavored CBD oil
Directions
Prepare a double shot of espresso or coffee, as you like.
Place the drinking chocolate and sweetener in a mug.
Add and mix CBD oil into the chocolate.
Heat the creamer till it is just below boiling.
Pour the hot creamer into the chocolate mix.
Mix all ingredients with milk froth for perfection.
You can further add cream or milk froth to give it the luxurious look. Savor your delicious espresso in a new form and taste!