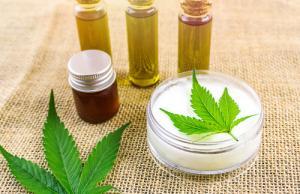 Gout is a type of inflammatory arthritis that occurs due to the higher levels of uric acid in your body. Your body creates uric acid by breaking down purines, which you get from the food you eat. When the uric acid levels increase, it crystallizes and accumulates on the joints, causing severe pain and swelling.
For many years, scientists are looking for a natural remedy for gout and recent studies are showing that CBD can be used in gout treatment because of its pain-relieving and anti-inflammatory properties.
CBD For Gout
It is important to note that CBD is not a cure for gout, instead, CBD can only manage the symptoms of gout. Most medications used to reduce the pain caused by gout are ineffective and sometimes cause side effects. However, CBD won't cause any severe side effects.
CBD is being widely used as a pain-reliever for several conditions like arthritis, sciatica, migraines, etc. Many studies have proven that CBD can effectively manage pain and gives you comfort. CBD will effectively reduce inflammation and provide joint pain relief.
Many studies have shown that CBD can interact with the CB2 cannabinoid receptors present in the endocannabinoid system and this interaction of CBD will help in regulating the inflammations associated with gout and other types of arthritic conditions. CBD is also effective in increasing the production of anandamide, which binds with the CB1 cannabinoid receptors and block the pain signals, thus, providing relief from gout attacks.
Best CBD Dosage For Gout
It is usually difficult for a beginner to find the best CBD dosage for the treatment of gout. If you talk with a doctor, he/she will recommend starting with a dosage of 20/25 mg per day. In many of the CBD products, the recommended CBD dosages will be labeled on the package.
CBD is available in several forms, including edibles, topicals, vapes, tinctures, etc. Calculating the best dosage of CBD will differ depending on the type of CBD product. Some people prefer topical CBD products, such as CBD creams and CBD lotions because they will provide effective localized pain relief.
CBD creams and lotions are the best way to reduce pain and inflammation in targeted regions of your body. You can take some CBD cream and simply apply it to the affected region and rub it properly to get relief from inflammation and pain.