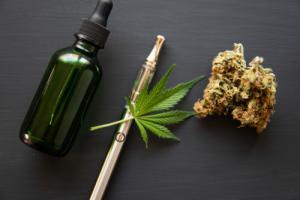 It takes some effort and time to create CBD gummies on your own. By making the CBD product in this way, you will have complete control over its strength. Some gummies have artificial ingredients that add flavor to the products. However, utilizing natural ingredients will ensure the gummy has no component in it that is harmful to health.
The Ingredients And Tips For Making It
It is easy to infuse homemade candies with cannabidiol isolate, a powdery form of CBD that has no other phytocannabinoid. Try to choose an unflavored version of the crystalline powder for CBD gummy creation. Buy a CBD isolate that comes with a 1,000-milligram jar, and there will be sufficient quantity to raise the concentration of cannabidiol in the gummies.
Every single milligram of the above-mentioned-type CBD product will have around 1,000 mg of cannabidiol. So bear this in mind when you decide the quantity of CBD crystals to add to the edible candies. The following recipe makes around 50 bear-sized CBD gummies. This means you may infuse 5 milligrams of CBD in every single bear-shaped gummy with 250 mg of crystalline powder. You may reduce or raise the quantity of the powdery product to suit your needs without negatively impacting the recipe.
In the event you want the entourage effect, however, then you might want to use full-spectrum type CBD oil in place of the powdery item. This kind of CBD oil has every terpene, phytocannabinoid, and flavonoid extracted from industrial hemp. It will allow you to have the more medicinally beneficial effect of all these botanical components acting together.
Choose the product where every single gram of the oil has 240 milligrams of cannabidiol in it. When you use it to create CBD gummies, do not forget to mix the thick CBD oil with gelatine and water for even cannabidiol in every single candy. You can make the gummies by using coconut oil or MCT oil-based cannabidiol oil, but these items may make the candies feel and taste oily. Therefore, we do not suggest using either of the products, which are used as a base oil for cannabidiol oil.
Whichever form of CBD you use to make the candies, be sure to add the following ingredients to it.
A cup of orange juice;
A tablespoon of lemon juice;
Two tablespoons of honey;
Three tablespoons of unflavored gelatine; and,
Your preferred silicone mold