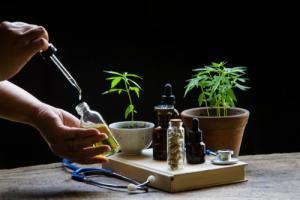 Several former and active NFL players advocate for the utilization of cannabidiol in the league, especially as an inflammation and pain treatment. There is a body of research showing the advantages of CBD for sportspeople. Therefore, NFL's players and CBD champions are pushing the National Football League to make its use legal among the players. Earlier, it was prohibited because of its association with marijuana. Last year, the National Football League and the NFL Players Association entered an agreement to let its players utilize cannabidiol. It was a win-win situation for the cannabidiol segment and the players.
After that, many former and present players have spoken about how they utilize CBD or back the CBD sector. Some of them have been forthright regarding their reasons for CBD uses. Other players have either put money into different CBD brands and goods or have started their own ventures. The likes of Terrell Davis, too, have discussed how CBD capsule consumption could have lengthened their careers because CBD could help athletes to recover from exercise sessions and injuries. Here, we will look at some other NFL players who bat for CBD's use among sportspeople like them.
Baker Mayfield
This Cleveland Browns quarterback is among the latest NFL stars to enter the world of cannabidiol. In 2020, Baker Mayfield announced himself as an endorser and investor for a CBD company, which he discovered through his sibling. He credited that company's CBD goods for his recuperation from earlier injuries without negatively impacting his performance. Mayfield also stated that he trusted that company since its founding members come from athletic backgrounds.
Rob Gronkowski
This Tampa Bay Buccaneers tight end is another NFL star who supports CBD's use among the other players. The support increased when Gronkowski returned from retirement into the NFL last year. Gronkowski used cannabidiol after an injury when playing soccer after retirement, and he loved it.
Derrick Morgan
This Tennessee Titans linebacker was among the NFL players who pushed for this league to make CBD's utilization legal for the players. Morgan was among the foremost sportspeople who played a part in the National Football League's decision to enter the aforesaid contract with the NFL Players Association.
In the twilight of his NFL career, Morgan regularly utilized cannabidiol as an element of his exercise sessions. Since then, he has been speaking for its utilization among the other players, especially for recovery as well as keeping the brain safe from head injuries.